Oct 10, 6:00 pm - 8:00 pm, Campbell's Sweets Factory
Join us for a delicious time at
Campbell's Sweets Factory
where popcorn is king and cupcakes reign!   
The heritage at Campbell's Sweets begins over four decades ago in the roots of candy making excellence, beginning with Amos "Jupie" Campbell's famous Karmelkorn®. Amos started us on this sweet journey when he opened highly profitable Karmelkorn® franchise shops in four mall locations and a plaza store in the Cleveland area. Through his candy-making profession he inspired his son, Jeff Campbell, to pursue the life of a popcorn & candy-maker. Moving forward in his fathers' legacy, Jeff and his wife, Lynn, opened their first Campbell's Popcorn Shop in Cleveland's historic West Side Market in 2004. At that time, along with two of their daughters Holly and Bethany, they launched the business with only a microwave, a few bowls, cooking utensils and some raw products. With a lot of hard work, sweat equity, integrity, and a commitment to quality, they have seen the business grow and flourish. Their mission is simple: Keep Cleveland Sweet.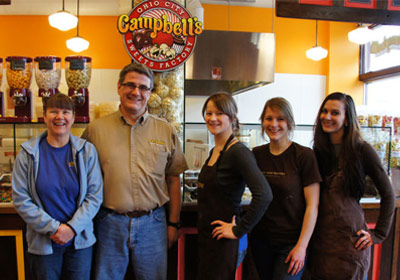 Factory Fun Facts:
⇒ All Non GMO popcorn seed is locally grown in Ohio
⇒ Owner Jeff Campbell made his first batch of Carmel Corn when he was 11 years old!
⇒ They have 3 retail locations, in several Giant Eagle stores, the Hard Rock Rocksino in Northfield, local Heinen's locations, B.A. Sweetie's candy warehouse and CLE Hopkins International Airport (in Hudson News stores).
Thank you to our food sponsor:
REGISTER BELOW 
or add this event to your
iCal
.
Sign Up!